[nextpage title="Gallery" ]
[/nextpage] [nextpage title="Specifications" ]
Note that there are two variants of the Silencio FP 120 PWM. One is the SFNL-14PK-R1 variant which we safely can call it as the 'normal' version. The Performance edition is SFNL-24PK-R1. The difference in specs are as follows:
Model number
R4-SFNL-24PK-R1
R4-SFNL-14PK-R1
LED Colour
Non-LED
Dimensions (LxWxH)
120(L) x 120(W) x 25(H) mm
Speed (PWM)
800 – 2400 RPM ± 10%
800-1,400 RPM ± 10%
Airflow
16.5 – 76 CFM ± 10%
16.4-44 CFM ± 10%
Air Pressure
0.48 – 4.8 mmH2O ± 10%
0.47-1.69 mmH2O ± 10%
Life Expectancy
160,000 hrs
Noise Level (dBA)
6.5 – 27 dBA
6.5-14 dBA
Bearing Type
Loop Dynamic Bearing (LDB)
Connector
4-Pin (PWM)
Rated Voltage
12 VDC
Rated Current
0.16A
0.03 A
Power Consumption
1.92W
0.36 W
Weight
158 g
Accessory

4x Anti-vibration rubber screw
4x Metal screw

Warranty
5 Years
2 years
[/nextpage] [nextpage title="Review Links" ]
From Hardware BBQ:
Coolermaster FP Silencio 120 PWM is made of PBT GF30 FR, which is Polybutylene Terephthalate filled with glass fiber. This is a flame retardant plastic. Noctua says that its IndustrialPPC NF-F12 is Fibreglass reinforced polyamide which can also handle temperature conditions up to 300 degrees Celcius and has glass fibre reinforcement. These IndustrialPPC NF-F12 also uses the same SSO2 bearing that Noctua is proud of using and with a six-year warranty. It's very interesting that the well-known manufacturers are making the best of fans they can provide for a lower cost. More power to the people!
[/nextpage] [nextpage title="[Purchase Links" ]
These are affiliate links where we get a small referral fee if something is purchased from the links above. While this doesn't add any extra cost from non-affiliated links, it helps us to gain funds to pay the bills for hosting and get required resources for testing. If our reviews helped you, buying from our affiliate links helps a lot!
India
---
United States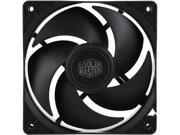 ---
United Kingdom
---
France
[/nextpage]