[nextpage title="Gallery" ]
[/nextpage] [nextpage title="Specification" ]
From Hardware BBQ:
The Lenovo Y700 is a well-built notebook to serve many people. As it happens, it provides entry-level gaming. It is not necessarily a bad thing as it caters those who don't wish for a high-end gaming notebook, but an all-around notebook which can play mainstream PC games. The sound is pretty decent for a notebook. While 4K resolution on a 15.6″ may provide a good experience, gaming on it using the GTX 960M with that resolution is not an option as the framerates would run in single digits. If you want some sort of portable gaming when buying the Y700, 1080p panel with GTX 960M is the way to go. I would like to see notebook manufacturers start adopting 1440p as a new resolution standard for mainstream-to-high-end gaming notebooks. Apart from very high/ultra in-game settings, I didn't feel any throttling with game performance. The display did not have any noticeable backlight bleeding. The keyboard is pretty nice once you get used to it. The white-coloured indicator for the Caps Lock and Num Lock makes it easier to notice them when the whole keyboard is lit with red (or off).
[/nextpage] [nextpage title="Purchase Links" ]
These are affiliate links where we get a small referral fee if something is purchased from the links above. While this doesn't add any extra cost from non-affiliated links, it helps us to gain funds to pay the bills for hosting and get required resources for testing. If our reviews helped you, buying from our affiliate links helps a lot!
India
Flipkart
---
United States
---
NEWEGG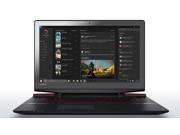 ---
United Kingdom
[/nextpage]