[nextpage title="Gallery" ]
| | |
| --- | --- |
| Specifications | 5 TB |
| Hard Drive Type | WD Black |
| Model Number | WD5001FZWX |
| Interface | SATA 6 GB/s |
| Formatted Capacity | 5 TB |
| Form Factor | 3.5-inch |
| Advanced Format (AF) | Yes |
| ROHS Compliant | Yes |
| Performance | |
| Data transfer rate (max) | |
| Buffer to host | 6 GB/s |
| Host to/from drive (sustained) | 194 MB/s |
| Performance Class (RPM) | 7200-RPM Class |
| Cache (MB) | 128 |
| Reliability/Data Integrity | |
| Load/unload cycles | 300,000 |
| Non-recoverable read errors per bits read | <1 in 10¹⁴ |
| Limited warranty (years) | 5 |
| Power Management | |
| Average power requirements (W) | |
| Read/Write | 10.6 |
| Idle | 7.6 |
| Standby and Sleep | 1.6 |
| Environmental Specifications | |
| Operating | |
| Non-operating | 5 to 55 |
| Shock (Gs) | -40 to 70 |
| Operating (2 ms, write) | 30 |
| Operating (2 ms, read) | 65 |
| Non-operating (2 ms) | 300 |
| Acoustics (dBA) | |
| Idle | 31 |
| Seek (average) | 34 |
| Physical Dimensions | |
| Height (in./mm, max) | 1.028/26.1 |
| Length (in./mm, max) | 5.787/147 |
| Width (in./mm, ± .01 in.) | 4/101.6 |
| Weight (lb./kg, ± 10%) | 301.66/0.75 ± 3% |
[/nextpage] [nextpage title="Review Links" ]
From Hardware BBQ:
There are certain situations where WD Black seems to be a good choice, but general workload makes the WD40E31X look great. You cannot go wrong with either of them, which is very important you look at the benchmarks and decide if this is the choice of workload you are looking at.
[/nextpage] [nextpage title="Purchase Links" ]
These are affiliate links where we get a small referral fee if something is purchased from the links above. While this doesn't add any extra cost from non-affiliated links, it helps us to gain funds to pay the bills for hosting and get required resources for testing. If our reviews helped you, buying from our affiliate links helps a lot!
India
NA
---
United States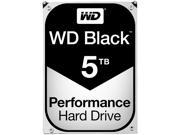 ---
United Kingdom
---
[/nextpage]