View All
We've seen Kingston's 12Gig SSD drive the last time but there wasn't any 120gig SSD drive with SATA 6Gb/s to compare it with- until now. Powered by Sandforce SF-2281 controller and Micron 29F64G08CBAAA Flash NAND, let's see how where she stands.

Before I continue with this review, I had 2 of these drive. The first one was with Firmware 1.2 firmware (later flashed to 1.3) and another being with Firmware 1.3- both factory flashed.
The left was the older Force 3 Drive with Firmware 1.2 (Serial number starting from 1126) and the second one with firmware 1.3 (Serial number starting for 1134).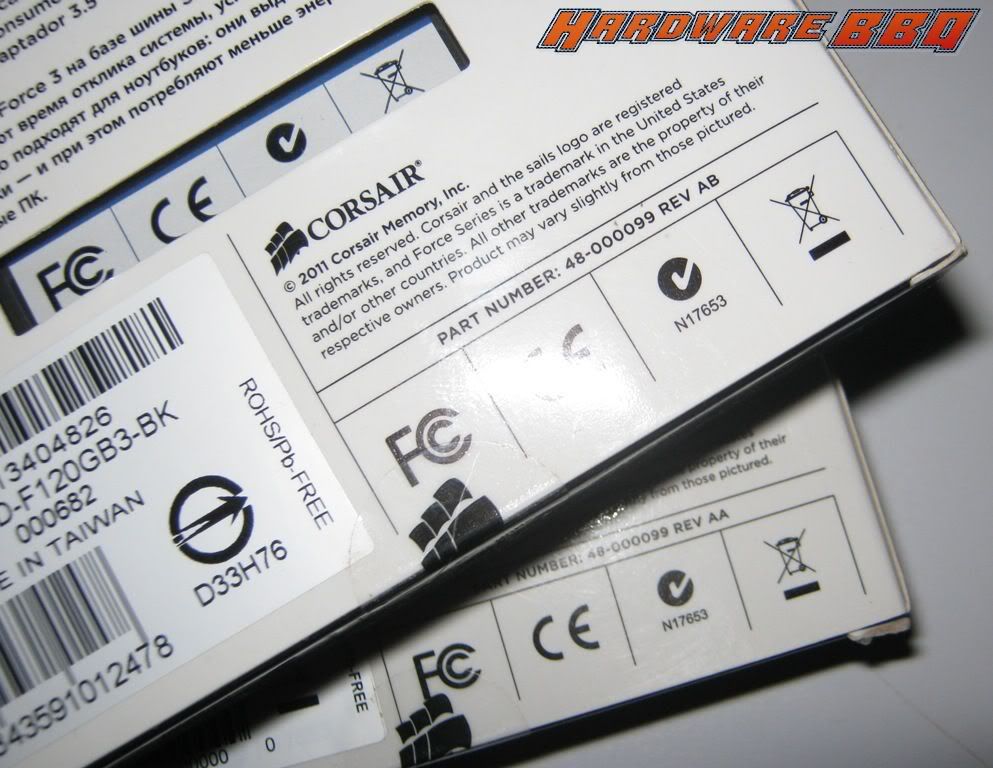 Another way of putting it up is that the newer one is Rev AB and the older one is Rev AA- as its clearly shown behind the packaging alongwith the part number. To make sure we're all on the same page,
Both the drive's PCB (Above: Rev. AA; Below: Rev. AB) are the same design with the same controller and Flash NAND. The only difference I can think of: firmwares. The first drive that I tested with the firmware 1.2 factory flash firmware was Writing and Reading just fine according to "some" benchmarks (excluding ATTO, HD Tune Pro's File Benchmark and Anvil storage utilities). Both in ATTO and HD Tune Pro the write was miserably low to be even considered as a storage drive. Anvil Benchmark detected write error from the very start of the endurance test. Do note that before I do any benchmarks or start using the drive for sometime, there are 2 things I do on a regular basis: Secure Erase and now: run atleast 50 loops with Anvil's Endurance test. To the curious, the test setup was under AHCI, the drive gets a good ol' fashion clean installation and I use The installation of Windows 7 64Bit Ultimate Edition went smooth however random drive lockups and "hangs" used to happen as soon as I was done with naming the OS profile. It used to last about 10-20 seconds and unfreeze for sometime and then it works- for about 10-12 seconds. I went ahead and followed the troubleshooting step that Corsair forum's Yellowbeard suggested, I flashed it with the 1.3 firmware, only to find that the issue still existed, even after secure erase and re-installation. Using other editions of Windows 7- both 32 and 64bit didn't produce any smooth operation. Did something happen during the flash? Anvil Endurance test DID detect write error the second I started the test. The newer Rev AB with 1.3 factory flash worked the way it should. No random lockups, no hangs, no BSODs- even after putting the system in hibernation and sleep mode with shorter or longer intervals. There were some even with older drive, they didn't face any issue, some did. The issue was only with for the Force 3 120gig drive. I experienced the same issue what people did but firmware 1.3 factory flash worked the way it did. So if you happen to buy these, make sure its with the Rev AB version. Comparing the newer with the older packaging, the newer package is identically the same except with a small cut-out on the back to see the serial number.
I hope the newer drives that are retailing is with the newer Rev AB versions. If you do end up with an issue, simply RMA it. In my honest opinion, RMA of Corsair power supplies (replacement- not repair) is a role model for a lot of companies out there- and I am not the only one who will say this. But, better off picking up the right cake from the start. Moving on! (Note: The pictures that are taken are with Rev AA, but the benchmarks are from Rev AB)
The drive comes in a standard packaging.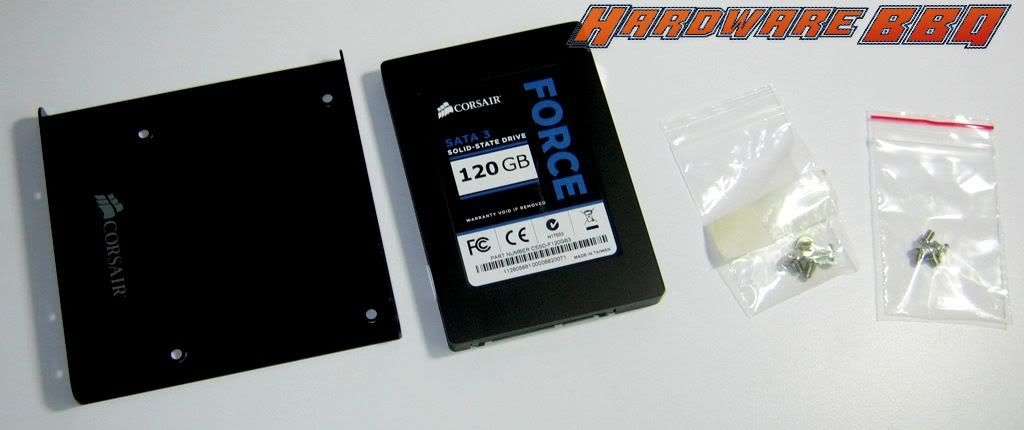 Corsair's kit is bundled with the basics: SSD tray, the drive, and 2 sets of screws.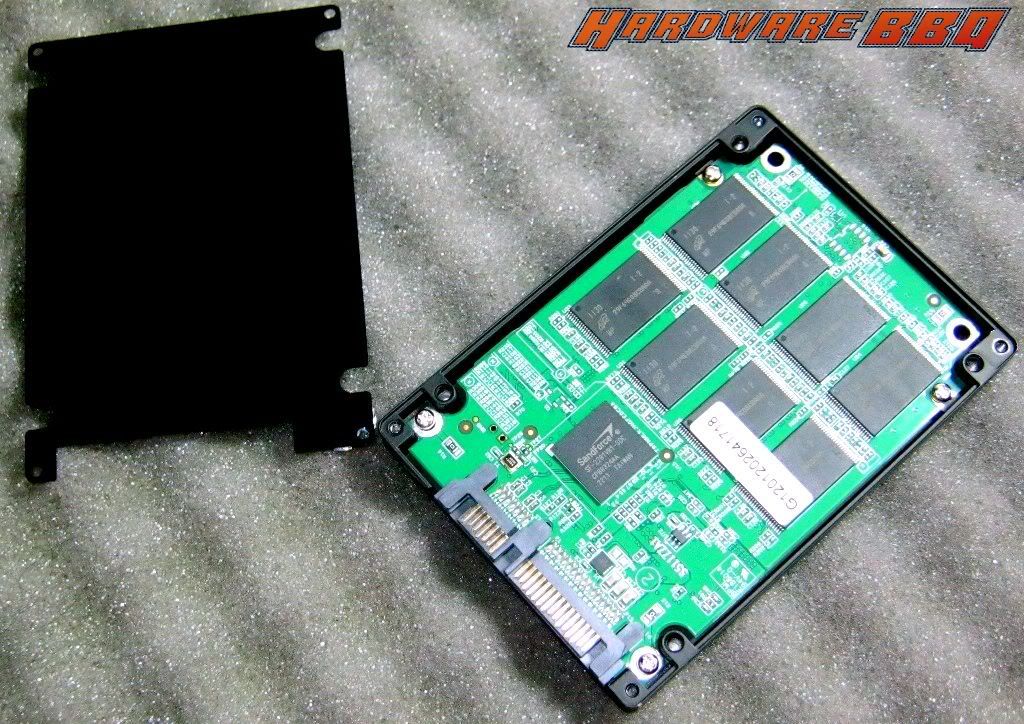 The casing is a Black anodised aluminium with brush finish. Inside, the PCB comes with the Sandforce SF-2281 controller and a total of 16 Micron 29F64G08CBAAA flash NAND, totaling upto 128GB. 8GB is reserved for over-provisioning and for storing checksums. There is no Cache memory. Over-provisioning is a term used to increase the spare area on the SSD, hence increasing the performance and the endurance of the SSD. In a nutshell, if a block wears out, the spare area ends up being a replacement. There have been SSDs which does reserve a Flash NAND for over-provisioning.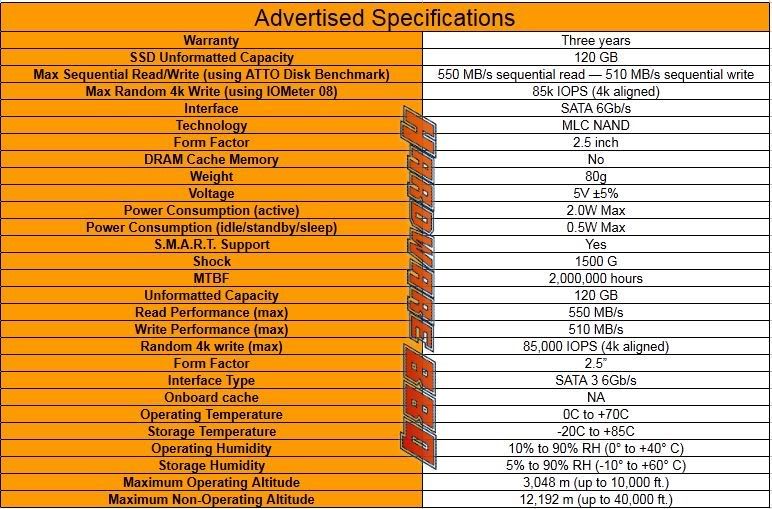 The SSD's formatted capacity is 111GB.

Honestly, I would like to see someone other than Intel (Kingston has 1, but that's an enterprise-class SSD) to provide a 5 year warranty. I am not simply referring to Corsair, but any consumer-class SSD drive. Benchmarks

I would like to Thank Gigabyte, Kingston and Western Digital for keeping my test setup to evaluate other hardware.
Storage drive tests are always done in AHCI mode.
Boot Load Test
[cf]CSSD-F120GB3-BKboot[/cf] Very odd curve for an SSD drive. Something I haven't expected it. Changing the SATA3 ports, cables and CMOS Reset pretty much gives the same timing.
—
AS SSD Benchmark
[cf]CSSD-F120GB3-BKasssdread[/cf] [cf]CSSD-F120GB3-BKasssdwrite[/cf] —
CrystalDisk Mark
[cf]CSSD-F120GB3-BKcdiread[/cf] [cf]CSSD-F120GB3-BKcdiwrite[/cf] Even if one ignore Sequential Read/Write, Kingston HyperX drive pretty much sweeps it up.
—
ATTO Benchmarks
[cf]CSSD-F120GB3-BKattoread[/cf] [cf]CSSD-F120GB3-BKattowrite[/cf] —
Anvil Storage Utilities' SSD Benchmark
---
Conclusion Let's talk about how much it costs now:
| | | |
| --- | --- | --- |
| India (Company Pricing) | U.K. | U.S. |
| Rs. 9,300/- | £ 124.98 | $ 194.99 |
The U.S. pricing of F120GB3-BK is from Newegg, which lists this product as out of stock whereas this is available in Amazon UK. However, there is one more version of Corsair Force 3 120GB, model version F120GB3A-BK that costs $179.99 at the time of writing this article in newegg. I'll reconfirm which model is going to be available in the local market. For a 120gig SATAIII drive, this is a very good pricing- only if you're getting the newer Rev AB. Kingston HyperX has a good stand against this SSD but unless you cannot source Kingston HyperX 120GB standalone kit (haven't seen 1 yet in the retail or online sales), You could consider it. But- Just like motherboards, memory kits and power supplies, if a buyer can get a hold of a good product only with a particular firmware from a particular Rev version, a buyer needs to watch out, especially if 1 is buying via online. Can't say for sure about the Corsair Force 3 F120GB3A-BK drive that is listed in newegg.