View All
WD India sends a 1TB My Passport Essential SE 1TB USB 3.0 Storage drive for evaluation.
This is the My Passport drive with 18mm thickness. If you've been following on previous WD reviews in the near past, there's nothing much to say. Let's just hit it full speed ahead!



Do note that the warranty period in Americas and EMEA regions are of 3 years warranty. In Japan and APAC, its of 2 years warranty.
Other than the few reading stuff that you probably wouldn't end up reading, you get nothing more than a very short USB 3.0 cable (for notebook users, its sufficient) and a glossy storage drive.
Just to highlight a point, even desktop users use such portable drives mainly due to the mobility and being compact. Deeming such product keeping only notebooks/netbooks in mind, a number of desktop users might have to live with the short USB 3.0 cable that is not yet easily available in the market, should they choose to get a longer cable. If you are using USB ports in the rear I/O, unless its no bigger than an MATX casing the drive will pretty much hang with the rest of the cable. The size of the cable is so "restricted" that you have to hope that the I/O layout/Case/front USB 3.0/2.0 ports allow you to connect and keep over the case. Not that I am asking the cable should be as long as what its provided in My Book, but longer than this will be appreciated by many.
Glossy plastic casing, Fingerprint magnet and its very easy to get scratches from day 1 especially if you're carrying it around. Portable hardware should have a rugged construction and feel solid.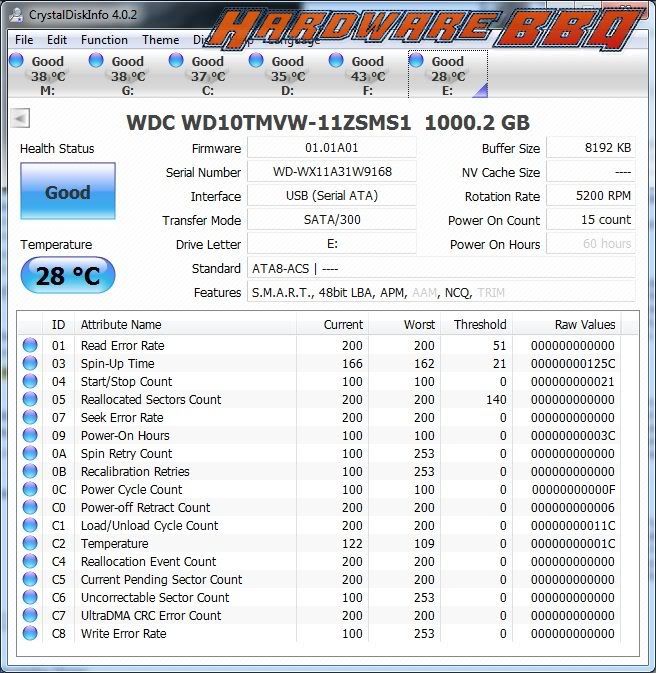 According to CrystalDiskInfo, this is a 5200RPM drive with 8MB Cache with SATA II bandwidth.



Storage drives are first pre tested with Anvil Benchmarks' endurance test for 50 loops. That's usually about 12 hours of stress testing.
Transfer Tests


WD My Passport SE's strong point seems to be smaller file transfers, even compared to Seagate's GoFlex 1.5TB USB 3.0 drive. Larger and multiple file transfers/Compressed Data transfer, especially larger ISO file transfer takes few seconds more than Seagate's GoFlex 1.5TB USB 3.0.
—
AS SSD Benchmarks

—
Crystal Disk Benchmark


—
8MB ATTO Benchmarks


The drive's limitation can be seen here very clearly as there's not much of an increase after 16KB of file transfer, both read and write.
—
HD Tune Pro Benchmarks


Out of all the drives, the processing consumption is lowest in this drive.


The drive has limitations and the casing need to be more rugged, but it has very quick transfers for smaller and uncompressed files and lesser processing consumption. Larger files, well its just a matter of few seconds.
| | | |
| --- | --- | --- |
| India (Retail) | U.S. | U.K. |
| Rs. 4,850 | $99.99 | £90.36 |
3 year warranty in APAC/Japan, USB 3.0 and priced nicely, its a good choice especially if you are using such additional storage as a secondary drive for storing files on fairly a regular basis. Do note that Seagate GoFlex comes with 2 years warranty in India and the 1TB counterpart costs somewhat similar.